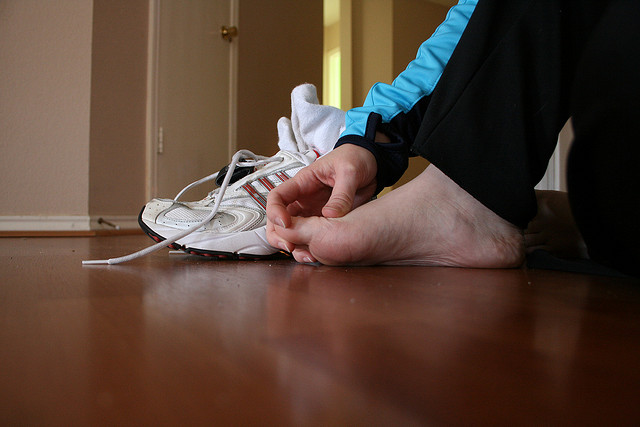 Pain in your big toe is a real pain in the butt.
Hurts to walk, or move quickly and sometimes just wearing shoes hurts.
I smashed my right big toe up against a dumb bell in a an odd, how -is-that-possible kind of move just as I was launching my Above The Rim Again project.
So, I had to get it under control as fast as possible and, most importantly, not re-injure it or my project could be sidelined for a while.
There are a lot of viewpoints on how to treat a big toe sprain or sometimes called "turf toe". In the video, I show you what I am doing to help my sprain heal. It's coming along very well by the way so I'm not too concerned about it.
Have you ever had big toe pain? How did you solve it?
---
Enjoy this article?

Ready to get real fit forever?
Enter your information and get health & fitness tips for grownups!
---
 About Doug Kelsey
| | |
| --- | --- |
| | Doug Kelsey is a physical therapist and healthy lifestyle "guru". Doug is formerly an Associate Professor and Assistant Dean for Clinical Affairs at the University of Oklahoma Health Science and is the owner of Sports Center Physical Therapy in Austin, Tx. He writes on how to "actively age" – how to get healthy and fit over your lifetime and take charge of your health. He and his brother Joshua created the ActiveAge Blueprint. |
photo by stetted
You might also like: