A reader sent me a question regarding how to apply the concept of low load, high volume repetition that we often use for knee pain to the hip. Here's his question and my reply.
"I am looking for something along the lines of your "tailgaters" program for the knee, in order to bathe that hip joint cartilage in synovial fluid, and maybe get it working a little better. Low load, and appropriate movement.  I've looked through your site and haven't seen anything on this topic.  What do you think – is there a path here that will avoid surgery and let me get this thing back in working order? Got any suggestions? My reading of the MRI is that my hip isn't really all that bad, compared to some others I've read about. I want to stay young forever!"
Paul
*****
Thanks for reading Paul and for your question.
I've used a number of techniques to improve weight bearing ability and joint strength in the hip and one you can do at home is below:
HIP SWINGERS
Attach the end of the band in the frame of a door. Make sure the attachment is up high and is secure (see photo example).
Lie down on your back and connect the other end of the band to the ankle strap.

Many people are more comfortable with a foam wedge or a couple of pillows under the upper back.

Slide away from the door so that your leg, in a relaxed position, is suspended off the floor about 6-9 inches.
Now, gently swing your leg back and forth, up and down. The foot should not strike the ground. If it does, slide away from the door a bit more.
I typically suggest 5-10 minutes per session and two or three sessions per day.
The motion should be pain free and very easy with no muscle fatigue. Many of my clients will use this drill prior to other forms of exercise to "lubricate" the hip – such as prior to walking or doing other weight bearing activities.
---
Are You Ready to Feel Good and Do More?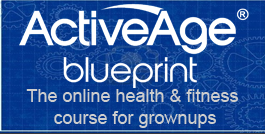 How do you slow the hands of time and stop "feeling your age"? How do you get stronger, more flexible with better balance? Lose the "middle age" middle and still have a life?
Is it just eating right and working out? Do you have to do a lot of "cardio"? Eat a low fat diet? Obsess over calories? Lift heavy weights in a boring gym? Pray you don't get hurt doing exercises that 20 year olds can barely do?
The key to optimizing your health is gaining a new set of physical and mental skills. You have to know what to eat and how to exercise safely and efficiently.
You can't afford to just roll the dice with your body as you age.

---
Enjoy this article?

Ready to get real fit forever?
Enter your information and get health & fitness tips for grownups!
---
You might also like: