After receiving a number of inquiries and requests for a book to help people with knee arthritis (osteoarthritis, not rheumatoid),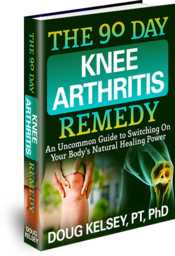 I'm happy to announce that my new book, The 90 Day Knee Arthritis Remedy, will be available soon. I'm near the end of the writing, editing, proofreading process so it won't be much longer.
The 210 page multimedia e-book (no physical product is shipped) has similarities to another book I wrote – The Runner's Knee Bible – but was not written with a focus on returning to running but rather on helping people overcome the aches and pains of arthritis and get back to an active lifestyle.
What to Expect
Some of what's in this book:
Why knee pain is never from diseased or injured cartilage – page 20
The two main sources of knee pain from osteoarthritis – page 27
Two simple home exercises to reduce pain and improve mobility – page 63
Discover the cause of osteoarthritis – "not just wear and tear" – page 21
The role of leg strength in knee pain – page 53
How cartilage heals – page 22
Case study with photos demonstrating healed cartilage – page 25
Why rest can help and hurt you – page 39
Eight options to reduce knee pain naturally – pages 67-76
What supplements to use to help strengthen your joint – page 83
The five things to change in your diet to reduce knee pain and increase joint strength – page 95
And a whole lot more.
The book has over 80 images and 30 videos (Internet access required to watch the videos) to help you learn movements and exercises.
People who have struggled with knee pain and stiffness, in some cases for many years, finally have a program that:
Restores mobility
Increases strength
Helps reduce the damage from knee arthritis
Reduces or eliminates pain
Lowers chances of surgery
Helps save money by eliminating the need for medicines, such as anti-inflammatory drugs, and decreasing the need for expensive medical care
Stay tuned for the release date of The 90 Day Knee Arthritis Remedy!
---
Enjoy this article?


Enter your information below and get my musings on injuries, health & life!

 

****

FREE!


(Click the image to download)
You might also like: