This is a guest post by Dale Churchett.  Dale is a former client and an ActiveAge Blueprint member. What he has to say about the Paralympics is a MUST read.
Enter Dale
On July 6th 2005 the IOC announced London would be the host city for the 2012 Olympic and Paralympic games. Even better news for me was that the Olympic Park would be built 30 minutes from where I grew up. London 2012 was going to be a once-in-a-lifetime event and my family and I were going to go come what may.
We planned our trip, got tickets, and our Olympic games were fantastic. We attended Boxing, Fencing, Football, Athletics and Taekwando. We watched the superb TV live coverage by the BBC and joined the whole of Great Britain in cheering on our own athletes, and those from around that world that came to our country to compete. The noise levels in the stadium would drown out that of a Boeing 777 as we saw amazing feats from Mo Farah, Sir Chris Hoy, Jessica Ennis, Usain Bolt, our Rowers, Gymnasts and Cyclists to name but a few. Suffice to say, the Olympic games were incredible and we soaked up every second of it.
There were were some venues we could not get tickets and I really wanted to visit those venues.
Consequently, I applied for Paralympic tickets and booked a trip back to London two weeks after the Olympic Games had ended. As I headed back to London I had no clue what to expect but was very excited. I had been successful in acquiring tickets for the Aquatics Center and the Athletics (four sessions in all). I freely admit I had some reservations about the Paralympics and primarily went to see the venues.
How wrong I could have been now amazes me.
The Wonder of the Paralympics
My first session was for the very first Swimming heats in the Aquatics Center; the place where Michael Phelps had recently become the most successful Olympian ever. Would the crowds be the same? Would the atmosphere in the Olympic Park be the same? Would attendance be the same?
I can tell you an emphatic 'yes' to all these questions. The Olympic Park was buzzing with anticipation for the first day. The sea of people flocking into the park was awe-inspiring and I walked with a huge smile on my face into the venue.
Still not knowing what to expect, but enjoying the atmosphere greatly, I was genuinely shocked to see the S6 category competitors come out ready for the first heats of Breaststroke, Backstroke and Freestyle. The S6 category contains the most disabled swimmers whose impairments impact their ability to push water effectively the most.
The first swimmer I saw had no arms. The second had no legs below the knee and the third suffered from Dwarfism and only had one leg! I shifted somewhat uncomfortably in my seat, as I'd not seen this level of disability on that scale in person. Sitting there before the starters gun I had a pivotal thought – it went something like this:
It occurred to me that if I have a negative reaction to seeing someone 4 feet high with only one leg, it's likely a pre-programmed thought and once I stumbled onto this, I could quickly forgive myself and move past it. Once that was done I was free to accept what-is and then focus on what the athletes are doing.
With this epiphany, the penny dropped. What I was watching were Elite Athletes with as much training behind them, as much determination, as much competitiveness and will to win as any Olympian I had seen two weeks prior.
The difference is, the Paralympic athletes cannot compete on a level playing field, and that is why the Paralympics evolved the category system in place today. Oh, I get it!
From then on I simply marveled at the sport, the competition, the human spirit and endeavor the competitors revealed to us all watching. I moved from thinking 'Poor bloke, that must be awful' to 'Wow, that was an awesome race! Check that out!'
Over the next ten days I attended a Paralympic event on seven days out of the ten. I picked up tickets to the evening sessions at the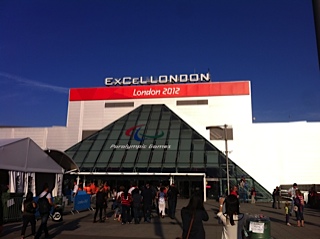 ExCel center and watched Wheelchair Fencing, Sitting Volleyball, Table Tennis, and Powerlifting. I am so proud to say the British public purchased every single ticket on offer – a record 2.7 million tickets! Every venue was full, the noise levels were incredible, the generosity towards other nations was humbling and yes, the sport was immense!
But there is some sad news in all of this.
The UK TV aired over 400 hours of live coverage of the Paralympics, and over 600 hours of catch up, documentaries, human interest and general news stories for the event. Great Britain's population watched, cheered, absorbed, delighted, and was changed as a result. "People broke out in spontaneous conversation on the tube", as the Mayor of London told us after the Athletes Parade through the streets of London attended by 1 million people (myself included).
The US TV Coverage however, came to Zero Minutes of Live Coverage and a 90-minute 'Highlights' show at the end of the day. I saw first hand how a generation's attitude was changed, and the wasted opportunity here in the US is truly shameful.
If seeing the Olympics in my hometown inspired me, the Paralympics changed me. I now realize what the words of Oscar Pistorius mean when he said, "Focus on what the athletes can do, not what they can't do".
What This Means To You
And applying this to your own life, that statement can be abstracted to say:
"Focus on what you can do, not what you can't do".
Why did I want to send this article to Doug? To make some sports loving people aware of the event that just happened in London, and to hopefully inspire some of them to look on YouTube.
Search for Paralympics London 2012 and watch something, anything. Blind 5-a-Side Football, the 100m Final for S44 (single leg amputee World Record 10.9 seconds), the 100m Final for T12 Visual Impairment (World Record 10.2 seconds), Wheelchair Racing, Hand Cycling, anything at the Velodrome, Blind Triple Jumpers, Double-amputee Javelin/Shot Put or Discus, Boccia, Powerlifting, Wheelchair Sabre/Epee Fencing.
Think about the ingenious ways the athletes have come up with in order to compete and the challenges that may not at first strike you.
How do you pace yourself when swimming in a race where you cannot see the person in the lane next to you?
How do you know when to turn if you are blind and swimming backstroke? How do you 'take your marks' when you have no arm below the elbow?
How do you start a bike from a stationary position with only one leg and reach speeds of 40 mph?
 How do you serve in Table Tennis with only one hand?
The image that will forever stay with me is that of Richard Whitehead winning the 200m final for double above-the-knee amputees. Whitehead is the world record holder for the Marathon in the T42 category (2 hours 42 minutes!). He was told he could not compete in London 2012 because the marathon was not included for his category. So he learned how to sprint instead. And just marvel at what he did!
And, check out this slide show: click here
So when you are going through rehab from an injury, or just trying to get fit, focus on what you can do, not what you can't and you may be amazed by what you can achieve.
Dale Churchett
---
Enjoy this article?

Ready to get real fit forever?
Enter your information and get health & fitness tips for grownups!
---
About Doug Kelsey
| | |
| --- | --- |
| | Doug Kelsey is a physical therapist and healthy lifestyle "guru". Doug is formerly an Associate Professor and Assistant Dean for Clinical Affairs at the University of Oklahoma Health Science and is the owner of Sports Center Physical Therapy in Austin, Tx. He writes on how to "actively age" – how to get healthy and fit over your lifetime and take charge of your health. He and his brother Joshua created the ActiveAge Blueprint. |
You might also like: